This article contains spoilers for Danganronpa Re:Birth, proceed at your own risk.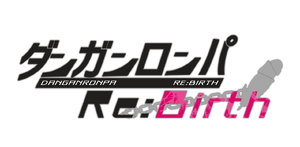 Danganronpa Re:Birth (ダンガンロンパ -Re:Birth-) is a fake Danganronpa game concept created as an April Fool's joke by Miwashiba, later developed into a one chapter video series.
Gallery
📷 For more images from the series, see Danganronpa Re:Birth/Image Gallery.
Cast
Monodora
Headmaster
Ayumu Fujimori
(藤森歩)
SHSL Bad Luck
(超高校級の不運)
Akira Tsuchiya
(土屋晃)
SHSL

NEET


(超高校級のニート)
Aruma Todoroki
(轟木或真)
SHSL Animal Trainer
(超高校級の調教師)
Kasumi Izumo
(出雲かすみ)
SHSL Spirit Medium
(超高校級の霊能者)
Kazuomi Samejima
(鮫島 一臣)
SHSL Karate Master
(超高校級の空手家)
Kēgo Sakuma
(佐久間)
SHSL DJ
(超高校級のDJ)
Maiko Kagura
(神楽舞子)
SHSL Dancer
(超高校級のダンサー)
Marin Mizuta
(瑞田マリン)
SHSL Weather Forecaster
(超高校級の気象予報士)
Mikoto Itsuki
(伊月弥琴)
SHSL Spy
(超高校級のエージェント)
Misuzu Aisaka
(逢坂美鈴)
SHSL

Miko


(超高校級の巫女)
Mitsunari Koga
(古賀光成)
SHSL Ventriloquist(超高校級の腹話術師)
Narumi Ōsone
(大曽根成海)
SHSL

Gourmet


(超高校級の美食家)
Nico Himuro
(氷室ニコ)
SHSL Poet
(超高校級のポエマー)
Saiji Rokudō
(六道斎司)
SHSL Undertaker
(超高校級の葬儀屋)
Seishi Yodogawa
(淀川星志)
Zen Katagiri
(カタギリ ゼン)
SHSL Mystery Novelist
(超高校級の推理作家)
SHSL Hitman
(超高校級の殺し屋)
Additional Info
Additional Cast Info
Birthday
Height
Weight
Bust
Bloodtype
Likes
Dislikes
Voice Actor

♈ April 9
162cm
47kg
70cm
A
Empty
Places
Construction
Sites
Itetsuki Riko
(杏都りこ)

♒ February 10
172cm
68kg
84cm
B
His
House
Going
Outside
kagami yuai
(かがみゆあ)

♉ May 18
174cm
53kg
90cm
O
Dogs
Cats
miya
(みや)

♌ August 13
165cm
48kg
80cm
B
Dark
Places
Sunlit
Places
Honoka Kanoho
(仄上かのほ)

♌ August 9
176cm
67kg
83cm
A
Sewing
Handstands
chinotaru

♑ December 28
111cm
44kg
60cm
AB
Being
Hot
Lame-ass
Geeky Shirts
Kyuuri
(宮利)

♐ November 29
160cm
43kg
75cm
A
Big

Ramen


Servings

Nattō

hana10

♊ June 1
157cm
43kg
70cm
AB
Summer
Beach
Muddy
Water
Seto Chitose
(瀬戸ちとせ)

♊ May 22
166cm
50kg
90cm
AB
Fruit
Candy
Noise
Tachibana Komugi
(橘こむぎ)

♓ March 5
170cm
53kg
80cm
A
Discipline
Scandals
Yozora Shiika
(夜宙椎華)

♊ May 27
184cm
62kg
80cm
O
Beef
Horse
Meat
Shigure Nao
(しぐれなお)

♐ December 4
137cm
33kg
66cm
A
Gourmet
Food
Junk
Food
Donguri
(ドン栗)

♒ February 14
152cm
40kg
74cm
B
Dream-like
Aesthetics
Gore
Aesthetics
Nanbara Kōka
(南原光香)

♋ June 10
178cm
63kg
80cm
A
Heart
Sutra
Flashy
Colors
Minkusu
(みんくす)

♌ July 28
177cm
58kg
78cm
B
Mazes
Witty
People
Shitan Takahashi
(高橋紫檀)
Name Etymology
Name Etymology

Ayumu Fujimori's name (藤森歩) and his backstory are likely heavily inspired by the character Ayumi Fujimura (藤村あゆみ) from the manga Twinkle Twinkle Idol Star (♂ティンクル²♀アイドル☆スター). The manga is about a boy who is forced to cross dress as a girl to become an idol, very similar to how Ayumu is forced to dress as a girl by his older sister.

Maiko's given name (舞子) is likely inspired by the

Maiko

(舞妓), apprentice geiko. Their jobs consist of performing songs, dances, and playing traditional Japanese instruments for visitors during feasts. Most likely in reference to her talent of Super High School Level Dancer. Her family name "Kagura" (神楽) is likely inspired by

Kagura

(神楽, かぐら), a word referring to a specific type of

Shinto

theatrical dance. Like the above, likely a nod to her talent.
Misuzu's family name "Aisaka" (逢坂) is likely a reference to one of Miwashiba's previous characters: Aisaka Mikado from one of their games: 1bitheart.
Saiji's family name "Rokudō" (六道) is likely directly named after the Buddhist concept "Six Paths" (六道), which in English, is commonly translated as "Six Realms of Karmic Rebirth."
Seishi's given name "Seishi" (星志) is likely a reference to the real-world detective novelist

Seishi Yokomizo

(横溝 正史).
Plot Summary
*The following is from the project's Tumblr, @Eipronpa
*Much of the translation below was provided by @kaibutsushidousha
---
Like Danganronpa, there are some people in the world who possess a "Super High School Level" grade skill. However, not everyone wants to go down the road of being burdened with their talent, which might limit what their future holds for them. Additionally, there is a fear that certain talents may be misused for evil purposes such as murder. As such, the "Talent Removal Project" (才能解放計画) emerges.
Kaihō Gakuen (戒峰学園 / カイホウガクエン, a pun on Danganronpas 希望ヶ峰学園 Kibōgamine Gakuen) is built, along with 30 other school buildings, in which a student can either volunteer to enter or be volunteered by a family member. Volunteered students are interviewed by school officials before admission, but people who are volunteered by a family member are forcibly admitted. A force similar to the Super High School Level Despair overthrows the school (later revealed to be Akira Tsuchiya), taking control of it, wiping the students memories of the Talent Removal Project, and forcing the students in each school building to perform a killing game. Because Akira tampered with the students' memories before their talent was fully removed, the students talents are still present, but they are not able to use their talents to their usual skill level.
The story begins with the protagonist, Ayumu Fujimori, waking up in the nurse's office of a place they are unfamiliar with. They discover they are inside Kaihō Gakuen, where after meeting all the other students, they find out all the students have been transferred there and sealed inside the building. The students meet the A.I. Monodora (モノドラ), a floating Monokuma-like head with cat ears, a tail, and a gold bell. Monodora introduces themself as the high school's president, and tells the students that they are now to be involved in a Mutual Killing Game. After a murder is committed, a Class Trial will be held, where the murderer, "Kuro" (クロ Black) will have to defend themselves against the "Shiro" (シロ White), and try to convince the other students that someone else was the murderer. If they are successful, they will be allowed to leave. If they fail, they will be executed.
Killing Game
Rules
Death Order
Chapter
Killed
Executed
Chapter 1

Saiji Rokudō
Murdered by
Maiko Kagura

Maiko Kagura
Executed
Creation and Development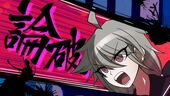 Danganronpa Re:Birth was created and developed for an April Fool's Day prank over a period of 1 1/2 months[1] by Miwashiba. Miwashiba had previously created indie games such as Alice mare, 1bitHeart, and the LiEat series. Miwashiba has stated that there were no plans to develop this game further than what has currently been released[2] however, they later began serializing the prologue and first chapter in text format on their blog after receiving so much interest in their story[3].
The site was launched on April 1, 2017, with "in-game" videos featuring music, a fully voiced cast, and sprites for each character. The art style, graphics, and website design were such a close facsimile of the Danganronpa style that there was much speculation online - particularly from English-speaking fans who did not have the benefit of understanding the untranslated website - that the game was genuine, or was a prank being pulled by Spike Chunsoft itself.

The site was featured in gaming website Gematsu's round-up of April Fool's pranks, where they praised the website for being "remarkably well done".[4]
Later Series
Due to popularity and positive feedback, Miwasiba decided to create a series of videos following a Danganronpa chapter. On July 16, 2017 the video was released. It is part one of three for all of Chapter 1.[5] A video teaser for part one of the two part trial (Part Two of Chapter 1 overall) was posted on July 16, 2017,[6] and later on July 22, 2017 the full video was released.[7]
Credits
Fake Specs
Title
Danganronpa -Re:Birth- (ダンガンロンパ -Re:Birth-)
Platform
P5 VITA
Genre
April Fool
Release Date
April 1, 2017
RRP
4,001 Yen
CERO Rating
Music
The song which plays during "gameplay" in the videos is a track called Beatiful for Lie created by Tezuka (テヅカ) also known as @aboutlogic.
<soundcloud url="https://soundcloud.com/aboutlogic/beatiful" height="120" />
Videos
---
Character Introductions
Unofficial Adaptation
Following the popularity of Danganronpa Re:Birth in the Western Danganronpa fandom, a English language fandubbing group named Danganronpa Re:Birth Voices (DRRBV) formed and created a blog with the intent to record in-character audio responses to fan messages and record dubs of Danganronpa Re:Birth fan comics[8]. The blog was created on April 7th, 2017, and posted a number of character introduction recordings in the days that followed. A month later on May 20th, 2017 the group announced that they had a fully voiced class trial in the works [9], which was later launched on July 14th, 2017.
The fan group's project features the original cast of Danganronpa Re:Birth, though it is only loosely based on the original and features a new, original storyline. As it was written and produced at the same time as Miwashiba's first class trial, it features a very different plot outcome, and is essentially an alternate universe. The first class trial, fully released on YouTube in three parts on July 14th, 2017, was an audio-only drama using Miwashiba's original sprites as well as new artwork and sprites the fan group made themselves. Since its release, the first chapter received over 125,000 views on YouTube[10]. After releasing the trial, the group released a series of "Meet the Ultimates" character introduction videos, which resembled those originally created by Miwashiba.
Due to the popularity of the first chapter, the project pivotted to producing a full, official-style second chapter, which was launched on April 1st, 2018 [11]. This second chapter, titled "Chapter 2 - Beneath the Surface lies a Deadly Sin", consists of a six parts: a three part Daily Life section, and a three part video class trial, totalling approximately four hours of video. As with the first chapter, the second chapter is fully voiced, but attempts to replicate the visual style of the original Danganronpa games rather than using static images. It features a Danganronpa style UI, an original soundtrack, original cutscene artwork, and many additional fanmade sprites of the cast, all created by the group. The assets for the class trial set itself were given to the DRRBV group by Miwashiba themself[12].
In the future, the group had planned to create additional chapters, with the third chapter estimated to be completed by mid-late 2019[13]. They also planned to write and produce a remake of their original first chapter in the visual style of the second, with the addition of a Daily Life segment[13].
Cancellation
On July 21st, 2019, the Voices team announced the project would be cancelled, as a result of Miwashiba asking to sever their partnership. At the beginning of their project, Miwashiba had agreed to allow the team to use their creations' name, characters and materials on the understanding that it would be entirely non-profit, in order to avoid potential legal action that Miwashiba may face if Spike Chunsoft found someone creating unofficial Danganronpa works for financial gain. Despite their agreement with Miwashiba, the Voices team announced that they were planning a stream in order to raise funds for the vet bills of a team member's cat, which was suffering from Feline Infectious Peritonitis. To encourage viewers to donate, the stream was intended to include a Q&A with the team, taking voice acting requests from the DRRBV characters, and other content, and as such featured Miwashiba's original characters and the Danganronpa Re:Birth name. In their public statement about the project's cancellation, DRRBV explained that the stream had been a "last straw" in a list of concerns that Miwashiba has had since their project's inception, and although they had been able to negotiate and compromise their way around issues with Miwashiba in the past, this event could only be resolved by them cancelling the project in order to respect Miwashiba's wishes to avoid legal problems[14][15].
After the cancellation announcement, the Voices team released a number of unused art assets and planned future plot details on their discord server, but have not posted them publicly on any of their social media[14][15].
Trivia
Maiko's execution translates into "

The Red Shoes

" (あかいくつ, 超高校級のダンサー 神楽舞子処刑執行). It is fairy tale about a peasant girl who is forced to wear red shoes that won't stop dancing until her feet are cut off in reference to her talent.
External Links
References
↑  : "皆で楽しくなれるよ 予想以上の反響頂いてありがとうございました~~~中々走った一ヶ月半だったけどよかった" (1st April 2017)
↑  : "Sorry, this is April Fools. There are no plans." (31st March 2017)
↑  : "【DRRB】ダンガンロンパ-Re:Birth- Part1【非公式二次創作】 (37:35) http://nico.ms/sm31542763 #sm31542763 これは自己紹介動画まとめである" (17th July 2017)
↑  : "💞DRRB裁判動画【前半1/2】7月22日(土)投稿予定です!宣伝PVにてボイス初登場のモノドラCVはmegaさんにお願いしております。お楽しみに!(カッコイイアレンジBGMはテヅカさんだよ #DRRB" (17th July 2017)
↑  : "【DRRB】ダンガンロンパ-Re:Birth- Part2【非公式二次創作】 (33:43) http://nico.ms/sm31602860 #sm31602860 DRRB、裁判パート1/2公開となりました!よろしくお願いします。 #DRRB" (22nd July 2017)
↑ DRRBV Tumblr: Launch of @danganronparebirth-voices
↑ DRRBV Youtube: Danganrebirth-voices - Class Trial trailer
↑ DRRBV Youtube: Chapter 1, Class Trial Part 1
↑ DRRBV Youtube: Chapter 2, Daily Life Part 1
↑ DRRBV Curious Cat: Discussion of developing with Aviutl
↑ 13.0 13.1 DRRBV Twitter: August Update Log
↑ 14.0 14.1 DRRBV Twitter: The End of Danganrebirth-Voices
↑ 15.0 15.1 DRRBV Twitter: The End of Danganrebirth-Voices (Full Message)
Community content is available under
CC-BY-SA
unless otherwise noted.